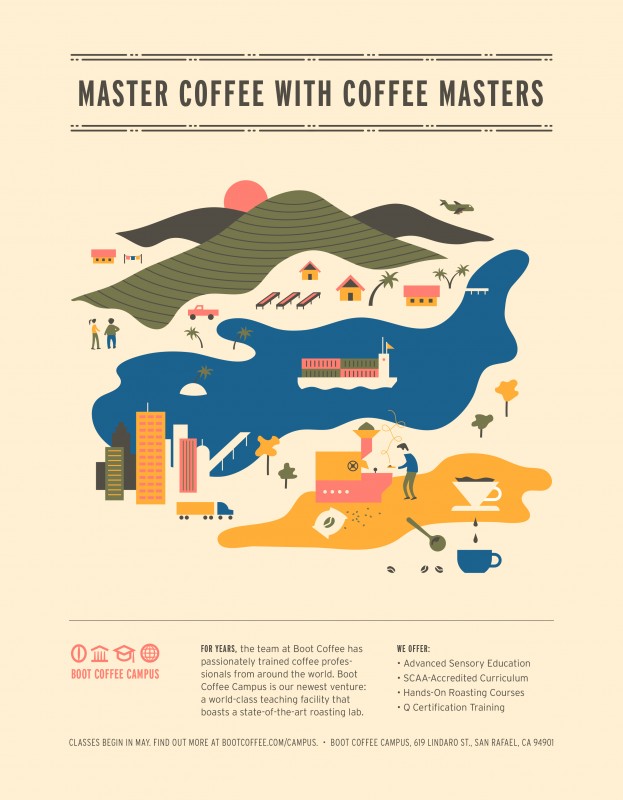 10 Apr

WILLEM BOOT LAUNCHES BOOT COFFEE CAMPUS

April 10, 2016 – San Rafael, CA

BOOT COFFEE CAMPUS TO OPEN DOORS IN MAY 2016
Marcus Young Joining Boot Coffee Team

Willem Boot announces the launch of BOOT COFFEE CAMPUS. "For years, the team at Boot Coffee has passionately trained coffee professionals from around the world. Boot Coffee Campus is our newest venture: a world-class teaching facility that boasts a state-of-the-art roasting lab."

"We also welcome a new member to our team: MARCUS YOUNG, a seasoned coffee expert with a proven track record in specialty coffee education and quality improvement. Marcus will become responsible for the curriculum development of Boot Coffee Campus."

The brand new training facility and roasting laboratory is based in the heart of Marin County, in the town of San Rafael, CA, at a short distance from San Francisco.

"Our model will lend itself to teaching about coffee holistically and engaging student throughout the supply chain. Boot Coffee Campus will draw trainees from diverse backgrounds; from roasters and retailers in coffee consuming countries to producers and exporters from coffee producing countries. They will share their knowledge and experiences with one another and engage in learning sessions that leverage their backgrounds for the benefit of all students."

The new facility features a state of the art cupping laboratory, a sensory lab, a separate teaching and certification classroom and last but not least, some of the most modern roasting machines, including two of the newest generation Giesen roasters. The curriculum of Boot Coffee Campus will feature SCAA accredited Pathway courses, Q certification classes, roasting and sensory education and Quality At Origin courses at the farms in Panama and Ethiopia that were developed with the assistance of Willem Boot.