When I first visited Istanbul in 1999 "coffee" (or kahve) meant Turkish Coffee. The two were synonymous. You could find filter coffee in a few hotels and restaurants that catered to business travelers and expats, but that's it. After visiting the city last week, it's clear that things are rapidly changing. Specialty coffee has arrived in Istanbul! It's been a slow, but deliberate shift in the coffee scene, much like here in the US. When I moved to Istanbul in 2005, a couple of Starbucks had just opened. They were in the tourist areas and, if you ventured inside, that's just what you would find—tourists. But by the time I moved back to the US in 2007, a small shift had already taken place. Starbucks was no longer catering to foreigners, but to Turks. New stores popped up in the more affluent neighborhoods, then in heavily trafficked areas. By this time other coffee chains had also moved in on their heels—Gloria Jean's, Lavazza, Cafe Nero, Illy—all international chains vying for some of Starbuck's success.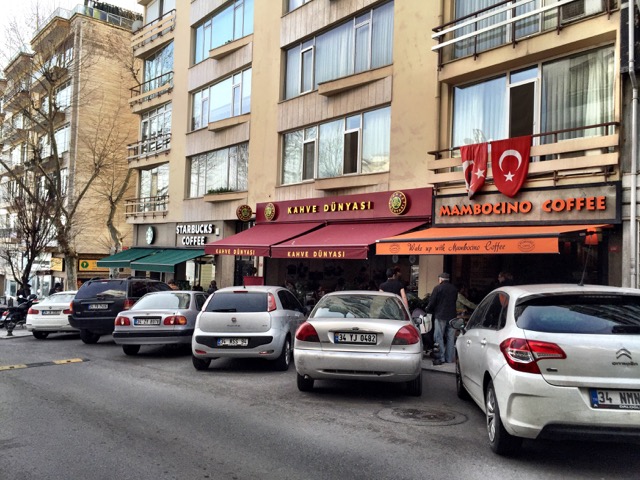 Next, an indigenous coffee company took Turkey by storm—Kahve Dunyasi (Coffee World). They first opened their doors in 2004, but have really become a strong brand in the last 5 years. Kahve Dunyasi combined a Starbucks-esque atmosphere with a chocolatier, and the result rivals any coffee chain that has opened it's doors in Turkey. And, although Kahve Dunyasi is more like Illy than like Blue Bottle, they played a very important role in making a way for turkish micro-roasters. Before Kahve Dunyasi, this type of coffee was still seen as western. Kahve Dunyasi made it Turkish.
Finally, in 2012, the first specialty micro-roaster opened in Istanbul: Kronotrop. Soon they were followed by Cekirdek and Brewlab. Boot Coffee is proud to say we had the pleasure of working with Kaan Bergsan, from Petra Coffee Roasters, who took 4th place in the World Coffee Roasting Championship in Rimini, Italy last year. Boot Coffee was in Istanbul again just a couple of weeks ago consulting with more Turkish coffee roasters. While we were there, I was shocked by the number of micro roasters that had popped up since I was there only 8 months ago. One of the epicenters of this delicious movement is Moda, an artistic neighborhood on the Asian side of the city. There were 4 brand new roasters that had opened within just a few blocks, and more are on the horizon. One of my favorite new spots is a cafe called "Let's Coffee". The space was clean and original and the espresso was delicious! Another cafe/roastery called Naan was refreshingly bright and airy—though small. They served their filter coffee by aeropress and were very knowledgable about their single origin coffee line up.
While walking around, I saw a sign outside the Cherry Bean Cafe that read, "If you really need something to believe in: Coffee" A wave of change is sweeping over Istanbul, in more ways than one. It's always been a city of contradictions. It's truly where East meets West—where old and new collide. I'm thrilled that Boot Coffee can be a part of the exploding specialty coffee scene there.
Petra Coffee Roasters