Greetings from Panama! I attended the international conference "Let's Talk Coffee" with more than 100 roasters and importers and at least 400 producers from around the world. This year's event took place in my second home Panama. I had the honor to participate in a panel presentation about Geisha coffee with contributing experts like Dr. Aaron Davis, a scientist from Kew Botanical Gardens (London, UK). Mr Davis gave an excellent lecture comparing the Panamanian Geisha and the Ethiopian Gesha varieties and the terroir they thrive in. Daniel Peterson (Esmeralda Estate) and Dr. Maria Ruiz (Cafe Ruiz), both Geisha pioneers, shared their experiences growing this "Queen of Coffee" in Panama. During the talks, I shared highlights of my personal endeavours with Geisha coffee and I recanted the lessons learned from winning this year's "Best of Panama" with our La Mula natural geisha.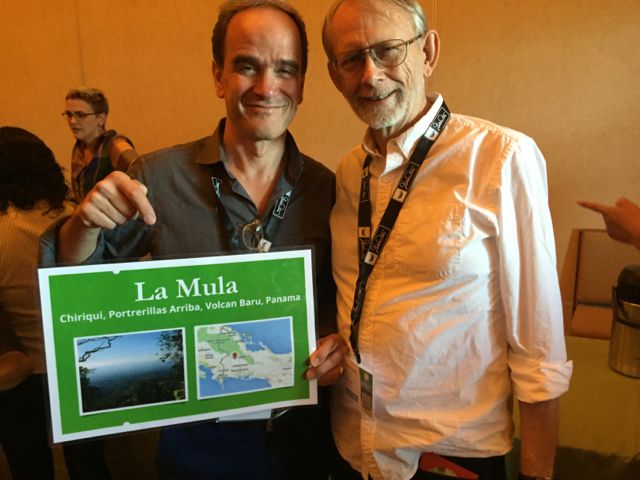 The Geisha lectures and tastings were coordinated by journalist Hanna Neuschwander, who presented an excellent overview of the rich history of this variety. The event was concluded with a tasting session for the audience of 500+ participants featuring 4 different Geisha coffees and 1 well known Ethiopian highland coffee. Our La Mula stood out because of its luscious sweetness and immense floral aftertaste. My friend Ken Davids appeared to be quite impressed by the flavors of La Mula!
On the final day of Let's Talk Coffee Panama, I took more than 20 participants up to Finca La Mula. The journey was a true challenge; we're in the wet season now and our trucks barely conquered the mud covered roads. Our ascent was awarded with a delicious cup of La Mula Geisha which we enjoyed amidst the berry loaded Geisha trees.