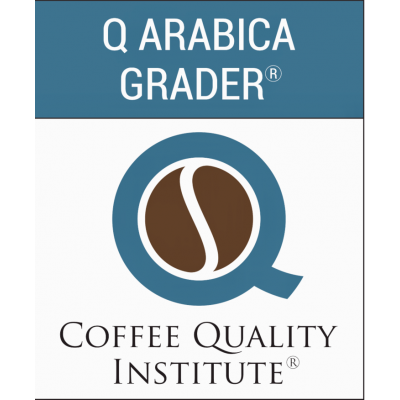 EARLY BIRD PRICING FOR 2024 COURSES!
get certified by the Coffee Quality Institute
Want to become a licensed Q grader? Take this highly intensive prep course followed by the challenging Q exam. Unless indicated differently, all Q courses and exams are presented and administered by Q Arabica Instructor Willem Boot. 
Boot Coffee is the only campus in the industry that provides personalized coaching for each of the Q students. During each day of the course, the lead trainer Willem Boot, reviews your progress and your specific questions and needs. In this way you can take advantage of three personal sessions before the start of the examinations. We have found this approach to be highly effective for our relatively high success rates at the Q course.
Why Become a Q Grader with Boot Coffee?
We are very proud that with our supplementary add-on programs and new systems we increased our passing rate way above the industry average. 
When the CQI (Coffee Quality Institute) created the most renowned certification for coffee cuppers, Q Graders, it created a demanding professional certification that filled a vacuum in the market when it launched in 2003.
The Q grader certification program was launched in 2003 by The Coffee Quality Institute (CQI). Since the inception of this intensive training and examination program, thousands of coffee professionals around the world have become certified as Q grader.
Since its introduction, grading and cupping protocols around the world have become much more standardized.
The professional accreditation of Q graders has created a league of coffee cuppers around the world who apply uniform procedures to the evaluation of physical and sensory attributes of coffee samples.
The Q certification program consists of a 3-day course, followed by a 3-day examination marathon comprising of 20 tests.
The Q grader certification is valid for 3 years, after which the Q grader is required to pass a calibration to extend their certification for another 3 years. The calibration consists of 3 cupping trials.
Completing the Q is a challenging but very rewarding experience! If you fail one or more tests, you do not need to retake the entire course but you can retake those tests only. Usually you can take up to 2 retakes per failed test during the examination course. Subsequently, there's the opportunity to take retakes at later Q courses.
This intensive program consists of 3 days training and 3 days examination. Each day will commence at 8:30 AM and will finish around 5:00 PM.
The majority of the sixth day is reserved for taking retakes of tests as necessary.
Why should you become a Q Grader?
Becoming an Arabica Q grader has several benefits for coffee professionals, including:
Recognized expertise: As a licensed Q grader, you have a world wide recognized level of expertise in coffee cupping and grading, which can help establish your credibility in the coffee industry.

Career advancement: Q grader certification can open up new career opportunities, such as becoming a professional coffee taster, coffee roaster, or quality control manager.

Higher pay: Q graders are often paid a premium for their specialized knowledge and expertise in coffee cupping and grading.

Personal growth: The intensive training and examination required to become a Q grader can help you develop your sensory skills, expand your knowledge of coffee, and improve your palate.

Network building: As a Q grader, you'll have the opportunity to connect with other coffee professionals who share your passion for coffee, which can lead to new business opportunities and collaborations.
In summary, becoming an Arabica Q grader can help you establish yourself as a highly skilled coffee professional, open up new career opportunities, increase your earning potential, and expand your knowledge and network in the coffee industry.
This was my 2nd class at the Boot Coffee Campus, and what a great 2nd class it was! Valerian Hrala is an incredible instructor/teacher/mentor. Not only did we spend 3 days talking roast theory, practical roasting exercises, triangulation of different roasts, tasting etc. but having 2 additional days to talk not only about opening a business in roasting, but a coffee business in general was priceless. Valerian, having 2 of his own roasting businesses since 2001, brings real world knowledge, marketing strategies, brand strategies, sales strategies, a fantastic calculator; I could go on and on, but I would hate to ruin all the surprises for a new student. This class was not only loads of fun, but a real eye-opener as far as all the information you leave with. All in all, 5 stars do not do this course justice!!!! I can't think of a better place to learn all things coffee other than Boot Coffee Campus!! Thanks again for another incredible week!
Markus Jeziorski
2023-03-27
The coffee introduction training was great. The right training for individuals who want to start learning more about this topic. Valerian did a awesome job teaching us more about coffee!
Attended my very first Boot Coffee class for the Foundations Barista Class and it was everything I was looking for any more. It gave me the basics I needed to create an espresso and steam my milk. It also, made me want to continue learning about espresso and coffee in general by taking more classes. The instructor, Valerian Hrala was very knowledgeable, helpful and provided an exciting class that made learning fun.
Me and my husband both took the intro and roasting classes. Valerian made the classes enjoyable and open to discussion. The group was also made of interesting and smart cohort. We look forward to taking more courses and collaborating with boot coffee! Ning & Gus
I had the opportunity to take Q-Arabica Combo with Willem as class instructor and Valerian as asst. instructor. They were both generous with their time and helped each student. I highly recommend taking your Q here because the instruction offered here is holistic and essential for a career in specialty coffee.
I visited Boot Coffee after reading the 'Monk of Mokha' and was instantly convinced that I need to take a few courses here. Willem and Valerian happily attended to my questions even during a busy day and gave me a sneak peek into what the courses might look like. I signed up for their 'Intro to coffee' class and it was super extensive with detailed info of each step from seed to cup. Highly recommend it for people wanting to get into the industry or just wanting to learn to make better coffee at home. I will definitely be coming here for more, cheers!
Issara Thongdaeng
2023-01-26
It was such a mind opening. I've learned a lot and tasted a lot of good coffee. These classes weren't just for people who want to work in the coffee industry but for whoever loves/wants to have a good cup of coffee to start your day. I thought I knew what the good coffee is until I came to the class. Thank you Valerian and Dan for such a good experience. I'll see you again soon
Rebecca Mangona
2023-01-23
Just completed SCA Foundations week at Boot Coffee with Valerian and Dan and cannot speak highly enough of them! Both Valerian and Dan are passionate, coffee-experts and fantastic teachers. The courses are very hands on and engaging. Both instructors also tailored course objectives to meet the goals of the students in the class. Regardless of your experience level, you will learn about coffee and have a ton of fun doing it!
Recently took a week of courses here with Valerian and Dan. Both instructors were great and very knowledgeable. Plenty of resources for everyone from beginners to professionals. Everyone was very personable and friendly, can not recommend the Boot campus enough!!
isabelle lamoureux
2022-11-16
My partner Simon and I are starting up a Roastery/tasting house in Revelstoke,BC. We travelled to San Rafael for a 3 day course ( SCA foundation +intermediate) and we absolutely loved the experience. Valerian was so knowledgeable and gave us so much of his time to answer business and coffee related questions we had. We got to roast all 3 afternoon and feel like we left with so much useful information. The teaching was professional whilst being personable, it was awesome to share our passion for coffee with other likeminded people. We wish we can be back in the near future for more learning, as well as tasting some more chocolate & wine 😉 Izzy & Simon
Week before the Q Grader Course
ADD SCA SENSORY Foundations and Intermediate
Improve your chances to pass the Q Grader Exam, get a Specialty Coffee Association Certification and SAVE $500 by signing up for the SCA Sensory Foundations and Intermediate.
FREE - Online Preparation Course
Our goal is to provide you with maximum support to become a Q Grader. In 2022 we will provide you with a tool to pass the Q Grader exam by practicing and learning ahead with our online course package.  This one is on us!
Early bird pricing valid until December 31, 2023. Regular pricing $2250,-